Welcome to RyFT's Club Sheen Frisco! Hustle yourself inside, pull up the oversized collar of your polyester shirt, then get up, get down, shake your groove thing, and, if you don't cross paths with any disco dancing, time manipulating assassins, you might just manage to stay alive, even when it's Saturday night and you've got a serious disco fever!
Is that vague—I mean stylized enough for you? So what's this all about, like for real?
RyFT's Club Sheen Frisco is an opt-in (meaning you have to sign up to join) club dedicated to all things in and about the realms of the RyFTiverse—the worlds that inhabit the odd mind of fiction writer, RyFT Brand.
So what do you get for joining this uber FREE, members only club?
I'll start with what you won't get:
* You won't get any email other than from me. In other words, I will never, ever sell, give, or share your email address with anyone else, ever, never, forever and even longer, I promise.
* You won't get anything from me unless I have something to offer you, something special. You're busy, you already get a ton of email, and you don't want any more junk, I know, because I feel the same way.
And here's what you will get, just for taking thirty seconds to join the Internet's sheenest club:
* First availability to anything I bring out personally. If I'm putting it out there, be it e-book, paper book, product, or audio file, I'll make sure you know it's coming first, and give you, as a club member, at least a week's advance access to it before I take it public.
* Access to exclusive, club members only stories. These tales are for members only, and I know you don't want to miss out. And many of these will be free.
* Get the goods on what's coming next, what's in the works, and the behind the scenes skinny.
* Each newsletter will include a valuable coupon good for something truly worthless…I mean wonderful (really, I do, I was only kidding)
* Access to the club store, where members can purchase exclusive Club Sheen Frisco merchandise.
* Access to the club's members only Facebook page. Keep in touch with me and the other club members, and join the ongoing conversations.
* More gratitude from me than I could ever fully express, but I'm going to give it my best shot!
Here's What You Do:
Go to the polyester blue box (a little up and to your left), the one labeled, Join Here. Fill in a name and your email address, click join, then go to your email in-box, open the letter from me, click the link and you're in!
Just for joining, I'm going to send you an introductory email that includes links to the club section of my website. From there you can view and download exclusive content, join our Club Facebook group, and reach the exclusive Club Sheen Frisco pro Shop.
So what the frass are you waiting for? Join already and get your sheen on!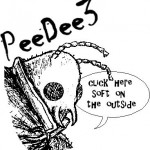 BUT WAIT, THERE'S MORE!
Want More Club Sheen Frisco Action? Witness PeeDee3, Intergalactic, Insectiod Assassin, taking on the time manipulating, disco dancing, pain inducing killer, Convoy Shasta Badself, in an all time epic battle of preposterous proportions— and read it right now, for free!  Just Click the Kakecian (that's the bug) to your left.