One of my favorite benefits from a writing life, aside from the writing, is being able to work wherever I am–my back deck, the coffee shop, on my boat, in the hotel, and two of my favorite places, camping in the woods and sitting on the beach.
Ah, nature, you inspire me.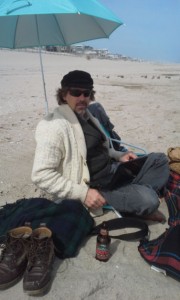 Now I am geared up for this. One of the tools in my arsenal is an HP Mini net book (remember those?). Mine has a solid state memory, meaning no battery hungry disc drive. I have a small shoulder bag I carry it in. The bag fits the netbook, a spare extended storage battery, a mini-mouse, headphones, note cards, pens, pencils, and highlighter. Pretty much everything I need to get work done. I took the browser off of the netbook, making it a dedicated writing device, and meaning that I cannot get tempted to waste time on the internet (too bad my smartphone still temps me…see the blogpost on discipline). This little laptop is great. It's light, runs a long, long time on a single battery (I have two remember) and does everything I need it to do. I'm sure the same thing could be accomplished with a properly arranged tablet, but I like that the netbook allows me to keep an extra battery and reads memory cards.
Now don't get me wrong, when I'm home, or know that I have access to an AC outlet, I still prefer my desktop or my wide screen laptop, but the netbook is a grand traveling companion.
So after a long, cold, snowy winter, my wife and I headed to a day on the beach. Here, in the Northeast (Long Beach Island, New Jersey in this case) it was still chilly, but nothing that a cable knit sweater couldn't handle. My wife's a painter and loves to paint ocean scenes. I knew that I had to get the final edits on the Jazz, Monster Collector double episode completed, so she grabbed her easel, I grabbed the net book, and we had a terrific day down the shore, and I got the stories completed.
To be a writer, no matter how lowly one's position, means making many sacrifices. It means skipping television, missing friends, and events, and sleep, lots and lots of sleep, in order to keep up with page counts and deadlines. But aside from the pure satisfaction of creating, it's a job one can do just about anywhere, anytime, and in whatever clothes one enjoys most.
So did you catch that the new, double episode of Jazz, Monster Collector is done? Well it's also out and available to you right now at Smashwords. All the other ebook retailers will have it available very soon. So click over and grab it because you know that it's free! That's two for the price of one…I'm so nice. We're moving closer and closer to the big, season finale too, so you'll want to keep up.
Don't forget to click the Club Sheen Frisco logo to your left. It's the hot spot for what's good to got in the RyFTiverse, so you definitely want to join.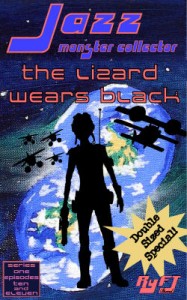 Free! That's right, Free Jazz, Monster Collector double issue. Get episodes 10 and 11 for the same great price! Just click the cover and off you go. Also available at major ebook retailers…hey, I like to make it easy.