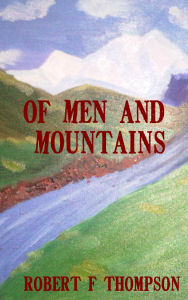 I hope you didn't cheer too loudly, I really do love the bug, but it's time to get a few other worlds spinning. 
Of Men and Mountains is not about alien insectiod assassins, it is about dreams, dreamers, the adventurers that dare, and the obstacles they face. Only this dream comes in the form of a metaphoric mountain climb. I think it's a lot of fun. 
Don't have an ereader? No problem, you can download the story to your smartphone, laptop, PC, or Mac. Don't have any of those, then drop me an email. With the right encouragement I'll start publishing the stories in hardcopy as well. 
Read more about Of Men and Mountains, get a free sample section, or get the entire story by clicking HERE 
New to Smashwords, visit my handy guidelines HERE. 
And please, if you read and enjoy the story, go back to Smashwords and leave a review. 
Jazz: Monster Collector, begins in two weeks and life on Merth will never be the same. 
Bonus! Just for reading this far, get Of Men and Mountains for FREE by using coupon code PJ45T at checkout. This offer is good until May 16th, 2011.